Bonnie M. Martin LCSW (Licensed Clinical Social Worker and Registered Play Therapist-Supervisor).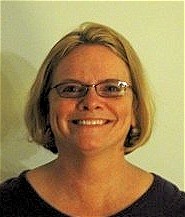 I can be reached by email at: bmartin@lifespanservices.com
Philosophy: I believe that people have the ability to change and that each individual copes the very best they can at any given moment in time. My work with children is based on the belief that play is the medium through which children relay and resolve their social and emotional dilemmas. I also work from the assumption that the trust and rapport, between client and therapist, is the base of all growth in therapy.
In working with children, my approach to therapy is developmentally play-based. Through play the child can relax and more quickly establish a trusting bond. Play-based therapy also allows the child the use of metaphors to feel safer when processing strong feelings. I often utilize the assistance of a therapy dog to help the child establish a strong therapeutic relationship. My therapy office is cheerful and child-friendly. Children are respected and accepted in my office. Since parents know their child best, I frequently include families in the child's therapy. The services I provide in therapy include developing behavior programs; helping teachers develop special accommodations (ie: 504 and IEPs)for the client; helping families increase quality communications; providing psychoeducation so parents and clients understand the underlying dynamics of a problem; establishing solutions to problems; monitoring the affects of medications; and much more.
In working with adult clients, I often incorporate the use of metaphor and self-awareness. Through increased self-awareness the client can come to decisions regarding desired self-growth and improved emotional regulation. Additionally, I assist the clients to identify thought patterns and their consequences so they can alter unwanted behaviors. My approach is gentle, positive, and supportive. We will talk about what works well for you in your life, as well as what does not work.
When you first come into my office, you will have some paperwork to complete. An average of 15 minutes is needed to do this. Usually this is done before I meet with you for the first time. When the client is a child, I meet with the parent and child together, then each of them alone for awhile. During therapy sessions I may give screening forms to rule out an underlying neurobiological problem, or a particular syndrome. I may also refer clients to community services such as therapy groups, school programs, and medical specialists. The sessions are approximately 50 minutes in length and usually weekly for the first 6 weeks. How long your involvement in therapy lasts will depend on what goals you have set and when they seem resolved. It is not unusual for a problem to resolve and a new one come to the forefront. Together we can develop guidelines to decide when you feel you are ready to stop your therapy.
My Background: Since I was in second grade I knew I would work with children. And indeed they are my life's work. After achieving my AA degree, I became a preschool owner and director, nurturing young children for over 35 years. This gave me a rich foundation when needing to evaluate the normal development of a child. I returned to college and earned a BA degree in Psychology and graduated Magna Cum Laude. I still worked in early childhood centers but also entered the medical field, where I provided social services for many years. I was fortunate to work in hospice, rehabilitation centers, hospitals, elder-care, and home healthcare. I helped establish a children's program for hospice. Again, I wanted to know more and returned to school for my Masters in Clinical Social Work degree. I graduated with honors and entered into private practice at Lifespan Services, where I have worked since 1989. As part of my graduate program, I completed a three year internship at Land 'O Lakes High School working in the full-service clinic with at-risk populations.
Clients: I enjoy working with children and the challenges they present. Although I work with children of all ages, I specialize in working with children birth through age 10. I also enjoy working with adults in various developmental stages of life.
It will be a privilege to assist you and/or your child reach your life goals. I look forward to meeting you.